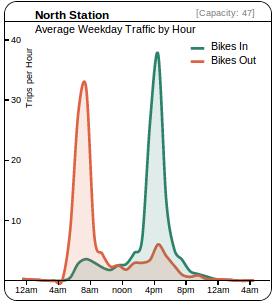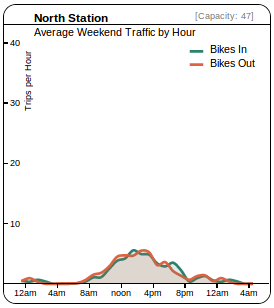 North Station (TD Garden) shows large commuter traffic
These figures highlight the dramatic usage of the North Station Hubway Station, as well as illustrating the difference between weekend and weekday usage which is apparent at most stations.
There are large numbers of commuters arriving at North Station and departing via Hubway Bikes in the mornings and returning in the evening Mon-Fri. Between 7am and 9am on a typical weekday 75 bikes depart from North Station. This station's capacity is 47 bikes. Hubway re-supplies bikes at active stations like this one to keep the system working during peak times. The evening is even more dramatic, with on average of net 88 bikes arriving at North Station over a 5 hr window.
The weekend picture is much different. Although still a popular station, no where near the same amount of traffic is coming through. Also the commuter bands are missing from the data and instead we see the more distributed usage.